As an expat or tourist in Bangkok, you may have considered an electric scooter as a convenient and eco-friendly mode of transportation. However, you may be wondering if it is safe and legal to use electric scooters in the bustling streets of Bangkok. In this article, we will provide you with an insightful guide to help you navigate the use of electric scooters in Bangkok.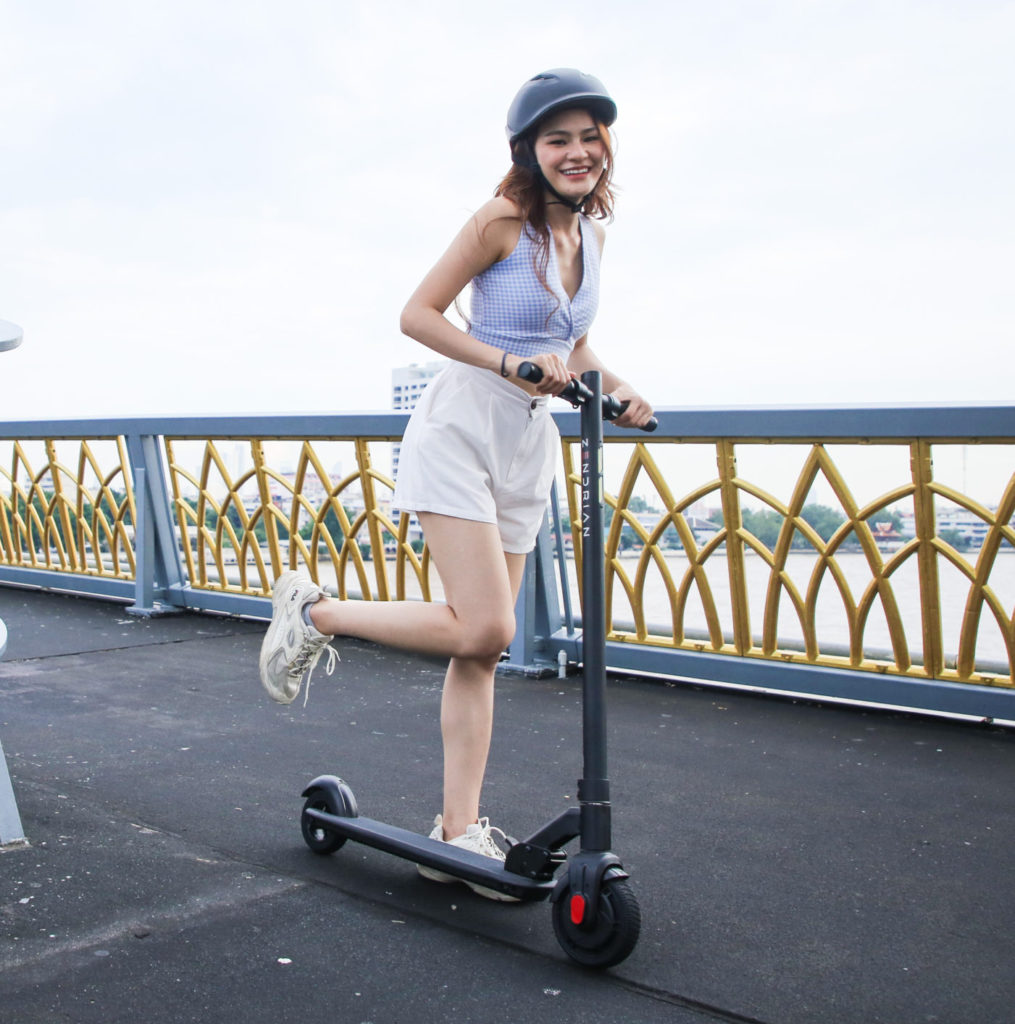 Are electric scooters safe?
First and foremost, let's talk about safety. As the founder of Zendrian Electric Scooters and a resident of Bangkok, I have a deep interest in the safety factors to consider.

When it comes to safety, there are a few things you need to keep in mind before jumping on an electric scooter. First, always wear a helmet. It may not be the most fashionable accessory, but it could save your life. Secondly, keep your eyes peeled for other users as most roads accommodate a wide variety of vehicles and people.
Motorcycles, tuk-tuks, and other bicyclists can appear out of nowhere, so be sure to stay alert and keep a safe distance. In some areas, the streets have no sidewalk at all, which leads to every user of the space competing for room to move.
Electric scooters can keep you in the flow of traffic in tight spaces, where sidewalk riding is unavailable, reducing the need for any larger vehicle to try to pass around you. Arguably this may be even safer than walking and may be a huge safety benefit.
Finally, be aware of the variety of road conditions. Potholes, uneven pavement, and debris can all pose a threat to your safety even when walking. Some areas of Bangkok are well maintained and clear, while others are still in poor condition.
Electric Scooters are an entirely new mode of transportation. The smaller wheels and short wheelbase give diligent riders the nimbleness and mobility necessary to find their way around obstacles in a dense city setting. The low deck height gives riders three modes of use, from walking, to kick-scooting, up to powered riding, and the flexibility to shift between them effortlessly. This is quite different than a bicycle where it takes more effort to get off and push it over obstacles.
In a 2022, the UK The Royal Society for the Prevention of Accidents concluded:
E-scooters are safer than many other travel modes, with significantly lower casualty rates (0.66 collisions per million miles travelled) compared to bicycles which were 5 times more likely to be involved in a collision (3.33 per million miles) and motorbikes which were 9 times more likely to be involved in a collision (5.88 per million miles).

April 2022, UK E-scooter Safety Report, RoSPA
The RoSPA conclusion notes that, of the accidents that do occur, most are among men aged 25-45, and likely included alcohol consumption.
It should follow that responsible, sober riding with a helmet is the best way to ensure an accident-free experience and to be a good citizen around pedestrians and other users of the space.
Legality of Electric Scooters in Thailand
On top of the infrastructure challenges, the laws regulating motor vehicle use in Thailand were written in the 70s and had no forethought about modern technology, leaving many people wondering: are e-scooters legal in Thailand?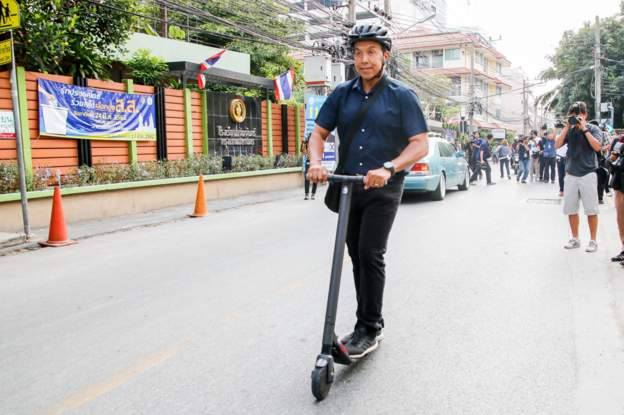 Despite the outdated laws, we are informed by the authorities that riding e-scooters legally in Thailand is possible if you follow the rules of the road and ride responsibly. In fact, even the governor of Bangkok has been seen using an electric scooter to get around the city!
The question: are electric scooters considered a bicycle, or are they considered a motorcycle?

The law suggests that bicycles should be powered by the rider, while motorcycles are powered by an engine. Yet, the DLT (licensing body in Thailand for vehicles and drivers) sets the specific rules and suggests that the relatively small electric motor in an e-scooer does not qualify as an "engine", and is therefor not a motorcycle as conceived by the 1979 law.
The consensus among avid e-scooter users has fallen on the side that in Bangkok, e-scooters should be held to the laws for bicycles.
Riders should follow the same traffic rules and signage as any other vehicle on the road, especially when they see signs aimed at bicycles. This includes wearing a helmet, staying in the bike lane or on the far left side of the road, using a light at night, and not exceeding the speed limit. Pedestrians have a right of way, and riders should dismount at intersections and areas where there is any danger to others. In many dense locations, the sidewalks are large and e-scooters (like bicycles) are permitted so long as a reasonable speed is maintained and the signage doesn't state otherwise.
If electric scooters are used in a way that is not dangerous to surrounding people or objects, riders follow the signage and instructions of nearby authorities, and protect themselves with safety gear, experience, and a quality electric scooter, then riders should be able to enjoy the wonderful benefits of this new mode of transportation.
Choose the Right Vehicle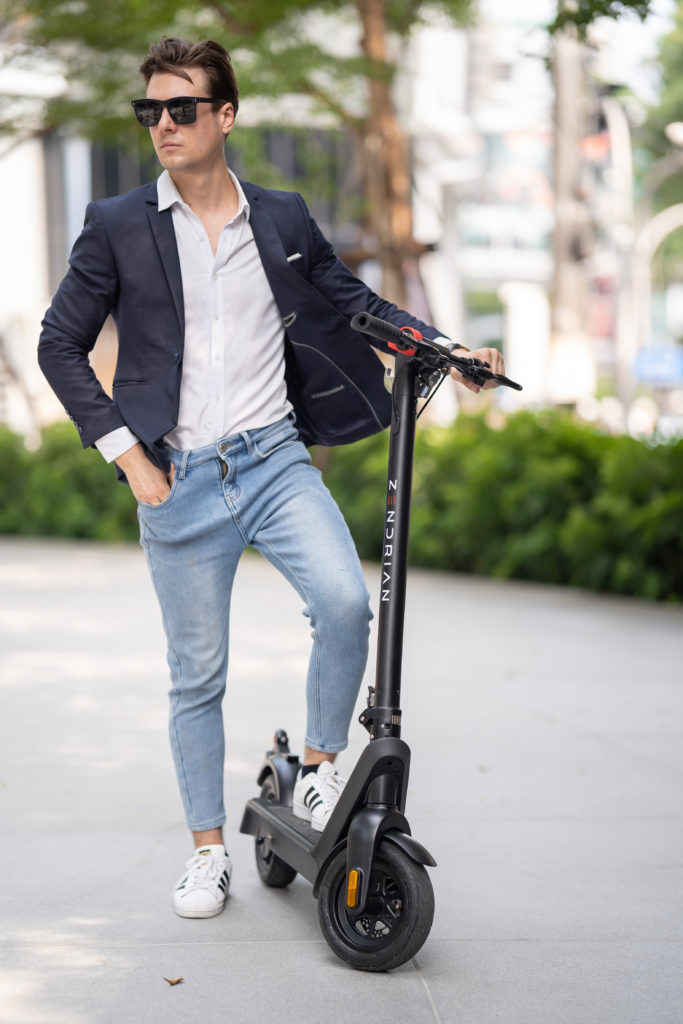 To ensure e-scooter safety in Bangkok, it's important to choose the right electric scooter for the conditions. For example, uneven pavement requires larger wheels and slower speeds, while inner-city use may require the vehicle to be lightweight so it can be picked up over curbs and steps. The best electric scooters for Bangkok are those that are easy to handle, durable, and have larger wheels for a smoother ride.
Where bicycles gain stability through large wheels, electric scooters gain nimbleness and maneuverability from being short in length, which is perfect for navigating obstacles. Bicycles are heavy and cannot be loaded into cars or the train, whereas e-scooters can move through multiple modes of transport, making them the superior tool for moving around the city.
In conclusion
As a company that rents and sells Zendrian Electric Scooters in Bangkok, we understand the concerns that some people may have about the safety of riding an e-scooter in the city. However, we encourage people to give them a try in their area as an eco-friendly and convenient mode of transportation. When it comes to e-scooter rental, Bangkok has a variety of options available, making it easy for locals and expats alike to try out this alternative commuting option.
In conclusion, laws about electric scooters in Thailand may need to be reworked to be more clear, but riders can use e-scooters by adhering to traffic laws, good safety practices, and choosing the right vehicle for the conditions.
With its urban sprawl and heavy traffic, Bangkok is an ideal city for electric scooter use, and we hope more people will consider this eco-friendly and efficient mode of transportation.
Want to learn more? Visit the Zendrian showroom near BTS Ekkamai to see a variety of electric scooter options and take one for a test drive in real-world conditions.
Our lawyer makes us say… This article has not been reviewed by an attorney or safety researcher. All outdoor activities carry some risk, and it is impossible to declare any activity as being wholly safe. You should perform your own analysis of the conditions, requirements, and restrictions before using any vehicle or assuming it is safe or legal.
Further Reading
UK Study Concludes E-Scooters Could be Safer than Bikes (English) https://www.techradar.com/news/e-scooters-could-be-safer-than-bikes-according-to-this-new-study
Governor of Bangkok Looks to Micro-mobility (Thai Language) https://voicetv.co.th/read/3XHGU763n
Governor of Bangkok Uses Electric Scooter (Thai Language) https://mgronline.com/politics/detail/9620000029078
Characteristics and comparison between e-scooters and bicycle-related trauma: a multicentre cross-sectional analysis of data from a road collision registry – BMC Emergency Medicine 2022 (English) https://bmcemergmed.biomedcentral.com/articles/10.1186/s12873-022-00719-0
Rules for Bicyclists in Thailand (English, Thai) http://www.ibikeiwalk.org/wp-content/uploads/2019/07/%E0%B8%81%E0%B8%8E%E0%B8%AB%E0%B8%A1%E0%B8%B2%E0%B8%A2%E0%B8%88%E0%B8%B1%E0%B8%81%E0%B8%A3%E0%B8%A2%E0%B8%B2%E0%B8%99-3-%E0%B8%A0%E0%B8%B2%E0%B8%A9%E0%B8%B2-final-28082018.pdf
Article discussing the Bicycling Community in Bangkok (English) https://bicyclethailand.com/bicycling-in-bangkok/